Compare Chewing Tobacco Life Insurance Rates for Free
Dippers and Chewers...Stop Paying Smoker Rates for Life Insurance
Instantly compare quotes from life insurance companies that give smokeless tobacco users a non-tobacco health rating for life insurance.
Dipsurance is the only life insurance comparison service built just for chewing tobacco users. We provide quotes from companies that offer smokeless tobacco users a non-tobacco health rating...potentially saving you $1000s per year on life insurance premiums!
Quotes From Over 40 Top-Rated Companies Including
Smokeless Tobacco Life Insurance Quotes in 3 Easy Steps
Start Your Quote
Get started on your own terms...research and compare smokeless tobacco life insurance without the sales pitch!
Compare Non-Tobacco Rates
Compare the coverage and premiums from the insurance companies that will offer you non-tobacco rates.
Decide Next Steps
Dipsurance empowers you with most affordable options...you decide what the next step will be.
LET THE BEST NON-SMOKING QUOTE WIN
Compare Smokeless Tobacco Rates in Less Than 30 Seconds!
Chewing Tobacco Use and Life Insurance
The question that tobacco chewers ask:
Does chewing tobacco affect life insurance premiums?
Here's what you need to know about smokeless tobacco affecting life insurance rates: It all depends on which company you apply with for coverage. This is why it matters:
How Chewing Tobacco Affects Life Insurance
Unfortunately, most tobacco chewers are paying smoking rates for life insurance coverage. They think that chewing tobacco has an affect on life insurance and will cause premiums to increase. The big misconception is that smokeless tobacco users can only qualify for the same risk category as smokers. 
That's simply NOT TRUE!
There are a select few life insurance companies that view smokeless tobacco much more favorable than smoking. This means that if you use:
Dip

: Dippers of Skoal, Copenhagen, Grizzly, Kodiak, Husky, Timberwolf, Red Seal, Kayak
Chewing Tobacco

: Chewers of Redman, Levi Garrett, Taylor's Pride, Beech-Nut, Sportman's Blend, Rough Country
Snuff

: Tin users of snuff such as Gallaher, Genuine Irish, Wit & Wisdom, Imperial, Al-Capone, Fresko, Rumney's
Tobacco Plugs

: Chewers of tobacco plugs
Snus

: Dippers tobacco poutches such as Camel Snus, Marlboro Snus, Ettan Loose, General Long, Lucky Strike, Knox White, Skruf Stark, General Onyx, Montecristo Loose

…you can qualify for non-tobacco life insurance ratings as a smokeless tobacco user.  

At Dipsurance, we are the experts in smokeless tobacco life insurance. Our agents are knowledgeable with life insurance companies and underwriting guidelines to help you secure non-tobacco rates. 

We can help you save $100s (sometimes $1000s) in annual premiums by matching your health, lifestyle, and smokeless tobacco habits with the company that views them most favorably!
Get The Top Non-Tobacco Life Rates
View Rates in Less Than 30 Seconds!
Life Insurance for Tobacco Chewers
Most insurance companies view any use of tobacco as a major risk factor. While it's been proven that dip and chewing doesn't have as many health risks as smoking, such as lung cancer or COPD–it does have a higher level of risk compared to a person who uses no tobacco products at all.
Because there's a lot of evidence connecting both smoking and smokeless tobacco use to higher chances of developing cancer, most insurance companies will charge higher premiums when approving coverage.
How will they know if you use chewing tobacco, dip, snuff, snus, or plugs?
The Smokeless Tobacco Life Insurance Test and Physical Exam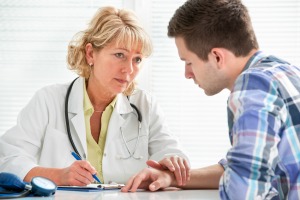 Many dippers and chewers try to hid and do not disclose their tobacco use when applying for a policy. We do not recommend this! Most companies require a chewing tobacco life insurance blood test and physical exam before you are approved for coverage. During the exam, you will have to provide urine and blood samples which will detect nicotine in your system.
Once nicotine is detected–most insurance companies will either approve your policy with increased premiums based on smoker ratings or they could even decline your policy! Just remember that it's always better to disclose upfront any use during the previous 12 months.
12 Month Rule: Smokeless Tobacco Use Over The Last Twelve Months
A common question we get asked…
How long do insurance companies require you to not have used smokeless tobacco to get non-tobacco ratings on life insurance coverage?
Most insurance companies follow a 12-month no tobacco guideline. This simply means you will fall in the higher priced smoking category if you have used smokeless tobacco over the last 12 months. Under this guideline, how often you dip or chew (frequency of use) is not the issue. They look for any tobacco use. The weekend dipper or the occasional chewer will get the same high-priced rating as the hardcore dipper!
Exactly how high your smokeless tobacco life insurance rate will be depends on the company. Some insurance companies price rates very high, while some are more reasonable. Unfortunately, tobacco ratings are around 2-4 times more expensive than the same coverage for non-tobacco users on average. Other health factors do come into play, but the bottom line is tobacco rates are expensive!
The good news?
Not All Companies View Smokeless Tobacco The Same
Here's a secret most insurance agents don't know…
…not all life insurance companies view smokeless tobacco in a bad way. 
Each company will look at smokeless tobacco in a very different way. While most companies view it the same as smoking, there are a select few companies that view it very different. These are the companies you should look for when applying for an affordable policy.
Here at Dipsurance, we work closely with select companies that will:
Offer You a Standard Non-Tobacco Rating:

We work with a select few companies that will give smokeless tobacco users a standard non-tobacco rating if you dip, chew, use snus, snuff or tobacco plugs. To qualify, your other health factors need to also qualify for a standard health rating.

Offer You a Special Tobacco Rating:

For other smokeless tobacco users that do not qualify for the standard non-tobacco rating, we work with companies that offer smokeless tobacco users a special tobacco rating that will be more affordable than the typical smoker tobacco rating.
We work on your behalf of you and not any one insurance company. Our job is to take the hassles out of the process and help you find the best policy at the lowest cost possible!
Go ahead, give Dipsurance a try!​
Smokeless Tobacco Life Insurance Comparison: Non-Tobacco vs. Tobacco Rates
Another common question we get at Dipsurance is…
How much more expensive are tobacco rates compared to non-tobacco rates for life insurance?
On average, premiums on tobacco rates will cost about two times more than no tobacco premiums–all other things being equal. For this reason, all of you chew users out there need to find a company that will approve you in the non-tobacco category.
…here's a monthly comparison of premium costs:
Non-Tobacco Category Monthly Premiums vs. Tobacco Category Monthly Premiums
Most of our dippers and chewers users out there prefer paying monthly for coverage. Like all other bills, monthly premiums are automatically drafted from a bank account you have on file with the insurance company. 
We want to show you exactly how much chewers can save a month on premiums. Here's a comparison on the annual non-tobacco vs. tobacco premium:
This comparison is for a healthy 40-year old male who is looking for $250,000 policy for 20 years (20-year term). This comparison uses the non-tobacco rating that one of the companies will give chewers and dippers. The tobacco category uses the cheapest smoker rating we could find when we compared over 40 life insurance companies. This tobacco rating was also for a 40-year old male using the standard health rating for a 20-year term, $250,000 policy. 
$
47.25
Non-Tobacco Monthly Premium
$
90.30
Tobacco Monthly Premium
...as you can see, the cheapest tobacco category premium is over $40 more per month than the same non-tobacco life insurance policy. The most expensive tobacco premium of the companies we compared was $290.15 monthly for the same exact policy!
Non-Tobacco Annual Premium Payments vs. Tobacco Annual Premium Payments
For all you guys out there that like getting discounts–paying your premiums annually will typically save you around 10% on your premiums. You get this discount whether you fall in the non-tobacco category or the higher priced smoker category.
To give you and idea of exactly how much smokeless tobacco users can save annually on an insurance policy, we will use another comparison. 
This comparison is for a 35-year old male dip user who is looking for $400,000 policy for 20 years (20-year term). This comparison uses the non-tobacco category that one of our insurance partners will offer dip and chewers. The smoking category shows the least expensive rating offered when we compared quotes from over 40 of the best carriers. Both ratings were for the same 35-year old male using the standard health rating for $400,000 in protection over a 20-year term. 
$
601
Annual Non-Tobacco Premium
$
1,138
Annual Tobacco Category Premium
... the most affordable tobacco category premium is over $500 more per year than the same non-tobacco chewing tobacco life insurance policy. The most expensive tobacco premium that we compared was over $800 more per year and offered by very well know insurance company (it's a household name).
Let's do some quick math:
Over the course of a 20-year term policy​--the chew user in the example above will be saving $537 annually which adds up to $10,700 in total savings over the span on the policy!
What would you do with an extra $10,000 in your pocket?​
Go ahead, find out how much you can save on rates. ​
View Life Insurance Premiums for Chewing Tobacco Users
Now you understand your potential savings by getting a policy with a company that views the use of smokeless chew favorably. We will take a closer look at smokeless tobacco rates by age.
We'll start by comparing premiums in your twenties:
Cheap Coverage in your 20's
Guess what?
…most men are not thinking about purchasing coverage in their mid 20s.
But, it's an important protection tool that for those unexpected moments. The great thing about securing online life insurance at any age in your 20s is the fact that it will be cheap. With all else being equal (same health category), a term policy for a 26-year-old dipper will be much more affordable than someone that is 48-years-old.
Here's an example of a 20-year-term quote for $400,000:
Term Quote for a 26-year-old Dipper of Grizzly
In this example, the 26-year-old dipper of Grizzly Straight purchased cheap coverage to protect his family in the event of an unexpected passing. He has large debt obligations from both student loans and a mortgage that he did not want to burden his wife and young children with if something happened to him. 
He secured a non-smoker category for his $400,000 20-year term policy with a carrier that views his dip habit very favorably. He now has locked in protection for the next 20 years at much more affordable rate than a smoker in his 20s (or as a dipper applying with the wrong insurance company).
Affordable Coverage With The Right Company
Compare quotes from companies that views dip favorably...in 30 seconds or less!
Didn't buy protection in your 20s?
Tobacco Chewer in your 30's
In your 30s you most likely need some coverage (unless no one depends on you financially and never will). If anyone depends on you financially–you need to buy a cheap term policy!
For smokeless tobacco chewers between age 30-39 who want to protect their family financial, we recommend at minimum a policy face amount between 7-10 times your income. Any large debts such as mortgage or student loans and any estate wishes for your kids (think college education) would be added to this policy amount.
Here's an example of $500,000 20-year term policy:
Quote for a 34-year-old Dipper of Skoal Straight
For just over $60 per month, a Skoal Straight dipper born in 1982 could protect his family financially with a $500,000 term policy for 20 years. This policy would be used a tool to cover his income and payoff the mortgage on his home if something were to happen unexpectedly. 
Now's the time...stop thinking about it and just get a quote!
Take Action Today
Start Protecting Your Family...Affordable Non-Smoker Quotes in 30 seconds or less!
Life Insurance and Chewing Tobacco in Your 40s
You've reached your 40s...
...you (probably) understand the importance of protecting your family with a policy.
It's very common from men between the ages of 40 and 49 to consider purchasing a low-cost policy to protect the following if something happens to you:
​Income Protection

: Advancing in career and finally making good money
Big Home Mortgage

: You've hit prime earning years and now live comfortably
Retirement Saving

: Putting money away for your retirement
If you have large financial obligations, strongly consider purchasing protection so that your family and loved ones will be not be financially devastated if you pass away unexpectedly. We recommend that most men between 40-49 have between 10 and 25 times their annual living expenses in death benefit.
Here's a recent case study on a $750,000 term policy for 20 years:
Rates for 44-year-old Copenhagen Dipper
For under $100 per month, a Copenhagen dipper living in North Carolina could protect his family financially with a $750,000 term policy for 20 years. This policy would be used to protect his income, pay down the mortgage and send his son to college if something were to happen unexpectedly. 
Get started comparing term quotes instantly...
Coverage for Chewing Tobacco Over Age 50
Are you 50 years old (or older) and shopping for term coverage?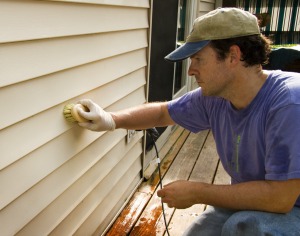 The good news: It's possible to secure affordable chewing tobacco life insurance coverage in your  fifties!
The key to getting the best term rates is working with a comparison service that will shop your rates with the "chewing friendly" carriers. It's common for Dipsurance to save you 50% or more on premiums!
Just like in the chewing tobacco life insurance for age 55 case study, most men age 50, 54, or even 59 are searching for ten year, fifteen or twenty year coverage options at low-cost.
We typically find that chewers call us to secure coverage for things like:
Retirement Protection

: protecting your highest income earning years when you are putting away money for retirement
Paying off Mortgage: most chewers in their 50's are aggressively paying down the home mortgage
Paying off College Tuition: paying for or helping college children with tuition, books, and university costs
To protect your family's financial obligations, most men who chew are looking for an affordable term policy to cover their family if they pass away unexpected. It's important to secure a policy while you are still young and healthy enough to get affordable premiums. We go the extra mile to make sure you get a non-smoker rate!
Here's a case study from a 57-year old chewer who wanted a 15 year term policy:
15-year Term Rates for 57-year-old Redman Chewer
For right over $115 per month, a Redman tobacco chewer living in Kentucky can purchase an online policy for a $250,000 term policy for 15 years. It will protect his peak earning years, retirement, university cost for his children among other things.  
Go ahead and view chewing tobacco quotes now...
Get The Best Chewing Tobacco Life Insurance Quotes
Information About Coverage from the Blog