The most important thing for you to know:
Cigar smokers can qualify for non-tobacco life insurance rates!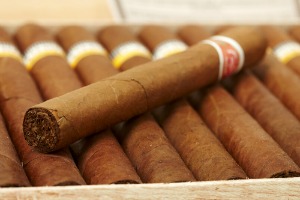 Here's the unfortunate truth: most cigar smokers are paying the same expensive tobacco rates for life insurance as cigarette smokers.
They are overpaying for coverage because they've been misinformed and told that cigar smoking can only qualify for tobacco rates. They have no idea they could have got a non-smoker rate and saved money!
Life Insurance and Cigars Fact: Apply with the wrong company as a cigar smoker and you'll receive a tobacco rates. This means you're stuck paying at least 2x more each year in premiums than they would have for the same term policy with a non-tobacco rate.
How to get affordable cigar smoking life insurance:
The key to getting inexpensive life insurance is apply with a cigar smoking friendly life insurance company. 
This  means that they view cigar smoking  much more favorably than cigarette smoking. As long as you admit to your cigar use on the life insurance application and have not smoked a cigarette in at least 1 year, you can qualify for a non-tobacco life insurance rate when buying a policy online.
As a cigar smoker, you'll save at least 50% each years with a non-tobacco rate vs. a tobacco rate. 
At Dipsurance, our job is to help you get non-tobacco life insurance rates and make the process easy! We're experts in cigar smoker life insurance and understand each companies underwriting guidelines for cigar use.
We help you get the lowest cost rates on the market by matching your health and cigar use with the life insurance company that will view your overall profile the most favorable. You can start comparing free quotes below that will show you the best non-tobacco rates from top-rated insurance companies: